Turkish ConneXion has been providing Turkish classes in our NYC, Tribeca location since 2004. We are also offering online classes globally. We take teaching passionately and provide a structured teaching environment with small class sizes and an emphasis on individual attention with extensive conversational aspects. Most importantly,we can not be more proud with our talented, professional teachers. Our teachers are excellent in English. However, we use English only when it is necessary to explain grammatical structure and semantics.
We are also very proud of our little Turkish Community that we created through our classes. Our students continue with us for a long period of time and build friendship with us and other students. We encourage you to come and experience our welcoming environment!
 We constantly develop our structure and teaching techniques with our students inputs and feedback. 
If necessary with enough demand, we can customize the program for you. Our goal is to provide you a fresh learning experience and constantly strive to make your individual experience better.
Our Director and Main Instructor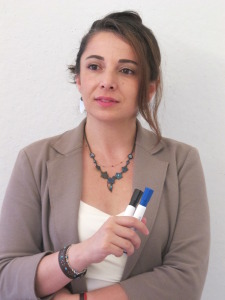 Bengisu Peker has a Master's Degree in Cultural Studies from Bilgi University in Istanbul,  Turkey, and Bachelor's Degree in Linguistics from Hacettepe University in Ankara, Turkey, and a TESOL (Teachers of English to Speakers of Other Languages) Certificate from Brooklyn College, NYC.
Bengisu has professionally been teaching both English, and Turkish for non-speakers since 2000. She has worked at both high school and collegiate levels in Istanbul and New York. She is a certified instructor of language training. Bengisu worked at various CUNY college's and The New School as as a senior international student counselor.
Bengisu Peker has published and translated articles for Feminist Politika, and has contributed to the books "Case Suffixes in Turkish Language" by Hakan Yilmaz, and "The World in Brooklyn: Gentrification, Immigration, and Ethnic Politics in a Global City." by Judith Desena, Timothy Shortell.
Using her years of experience in language teaching, Bengisu has developed her own curriculum and teaching style, and she looks forward to developing it even more with you. Please visit our Teaching Philosophy for details.
Our Affiliations